The Naval Fortress of North Evia was built before the Second World War (1938) during I. Metaxas, also known as the Fortress of Gouves.
German tenure (1941-1944) .It was used by the German and Italian, further strengthening it with technical and military equipment. In the Civil War, the rebels used it as a hiding place.  Near the Fortress, 18 residents from the villages of the area were executed, in retaliation for the death of a German officer.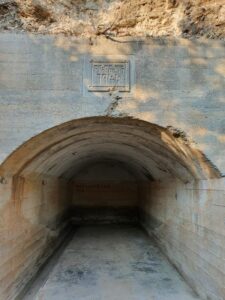 History
The Fortress of Gouves belonged to the naval Area 4 of the Prefecture of Evia based in Chalkida and was named Fortress of North Evia and the Pagasitic Gulf.
The Fortress had underground shelters for the safe living of the guard. There were command posts, officers' and hoplite booths, radio station and telephone exchange, kitchen and warehouses (fuel, ammunition, food, etc.), ensuring the self-sufficiency of the Fortress for 10 days, water tank, engine room, first aid station.
Today the Fortress is now open to the public.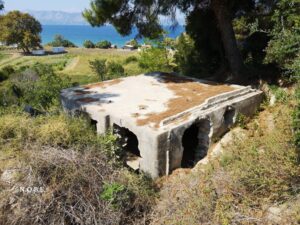 Nowadays, after the initiative of the Association of the village in collaboration with the Municipality for the maintenance of its parts that have been saved from successive destructions during the war attacks in the 2nd World War, but also from the nature and the looting In later years, you can navigate between the trenches, the observatory at the top of the hill and other facilities.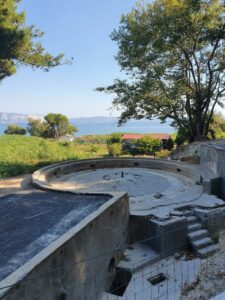 To visit it, follow the route to the village of Gouves and approach Kastri. On the left side of the road after the school building there is a sign. The last part of the road is a dirt road, but in good condition and you will not have a problem with the car.
Distances: From Pefki 6.5 km, from Istiaia 16.6 km, from Loutra Edipsou 36.6 km via Istiaia. From the Lake 50.5 km through Rovia, Vouta, Istiaia, while from Agia Anna 41 km through Vasilika and from Chalkida 112 km through Agia Anna, Vasilika.