Evia, in its land, is a tourist attraction with a rich historical past and extremely interesting monuments on the journey through time.
In South Evia we find the Dragon Houses of Ochi and Styra, as well as the "Kokkinokastro" in the area of ​​Karystos.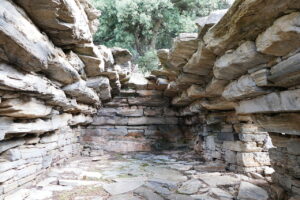 In Central Evia, we will visit the Ancient Theater of Eretria and the Macedonian Tomb (4th century BC), the castle of Karabamba in Chalkida (built by the Turks in 1684), many Venetian towers, Byzantine churches and monasteries.
In Northern Evia, we are enchanted by the Venetian towers in Rovies, the remarkable archeological collection and the marble statue of a bull in a position of attack, larger in size than a real, 4th century work located in Oreos. In Neos Pyrgos are preserved the ruins of a Venetian building on the rocky islet "Monastery", just opposite the beach of Nisiotissa.
In Istiaia, one of the oldest cities of Evia, the post-Byzantine church of Agios Nikolaos is preserved.
We must also visit the tower of the poet Georgios Drosinis in Gouves, a listed two-storey building of 100 sq.m. with stone walls 1m. Venetian architecture, in the halls of which we can see works of folk art of the area.
Artemisio (Pefki) was named by the goddess Artemis. She wandered in this area and worshiped her Sanctuary.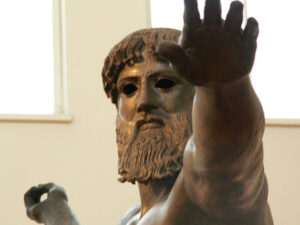 In the sea of ​​Artemisio in 480 BC. The naval battle between the Greek and Persian fleets of Xerxes took place during the Persian Wars, decisive for the development of history.
From its bottom emerged in 1928 the famous bronze statue of Poseidon or Zeus of Artemisio, which is housed in the National Archaeological Museum of Greece and a faithful copy of it is in its natural space, the port of Artemisio, Pefki.